How to work from home amid – Coronavirus Telecommuting
Working from home during Coronavirus (Covid-19) Telecommuting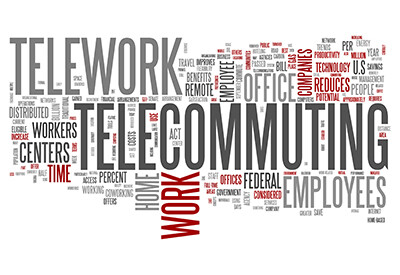 Working from home during Coronavirus (Covid-19) (Telecommuting) Miami
It is said that the Coronavirus (Covid-19) pandemic is the most severe global crisis since WWII. Restrictions have effectively stopped economies around the world and the global economy is expected to enter a recession in 2020 at some point. However, the magnitude of the downturn will depend on not only the length of the restrictions, but also how businesses, staff and people adapt to social distancing and the new norm of wearing masks as many people continue to work from home.
Limiting Exposure Through Technology
If you have never telecommuted (worked from home) the first thing you may want to do is consult with Human Resources or immediate management. If you are part of the business office staff, then perhaps you already work with a desktop computer or laptop in the office. If your role is more of a physical one, then your employer may probably keep you in the office while other staff might be asked to telecommute or work from home.  The goal is to limit the interaction as much as possible and utilize technology to keep everyone connected during the pandemic.
Computer Remote Access
As a result, many businesses are now scrambling to provide computers or laptops to employees with remote access in an effort to reduce the spread of infection across coworkers within the organization. Therefore, to continue successful business operations many employees that otherwise would not typically work from home may have been given a laptop to access on-premise or even cloud applications they regularly use while in the office. Talk to your manager and see if there is a company laptop available for your use. If not you may be able to utilize personal devices but with restricted access to several applications. This of course depends on how much your company embraces security.
I have a Laptop, Now what?
Unfortunately, many organizations come to realize that it is more than just handing out devices to access corporate applications. It also involves making sure the right infrastructure is in place to support connecting all those laptops reliably and securely. We have helped businesses adopt cloud technologies that have directly helped remote users utilize those everyday applications working from home during this pandemic.
What about My Phone Calls?
So I have my computer\laptop, but how do you participate in conference calls? How can I make calls and not necessarily use my personal cell phone? Furthermore, how do you transfer calls to other staff members? What if my desk phone is still directly tied to the office phone system?  Your employer may have a dedicated phone system in the office or POTS (aka as basic lines). So how do you transfer calls to other departments when others are also working from home just like you.
Our solution is our hosted PBX platform in the cloud. Meaning, you can really work from anywhere there is a good reliable Internet connection. Our solution comes with not only providing you service to a desk phone but also to what is known as I softphone. A softphone is a program that runs on your computer that has a dial-pad and all the features and you would find on your desk phone. Additionally, you can take your desk phone just as you do your laptop and work from home 100% as if you are actually sitting in the office.
Take away…..
Whether it is related to providing the necessary hardware or infrastructure to connect all your devices or simply utilizing our cloud-based phone system, we can help provide the right solution for your business and budget.
Call us today to learn more about how we can help to adopt remote worker solutions or our hosted PBX phone system in the cloud service at 866-JNS-NETS.